The CopyStorm/Medic Log Manager tool supports the viewing, management, and exporting of the results of previously run CopyStorm jobs.
Starting with version 7.*.*, CopyStorm stores the status of each job into tables in the CopyStorm target database. The CopyStorm/Medic Log Manager is a convenient tool for viewing, managing, and exporting the contents of these tables. In addition to Log Manager, regular RDBMS tools can be used to access CopyStorm's logs.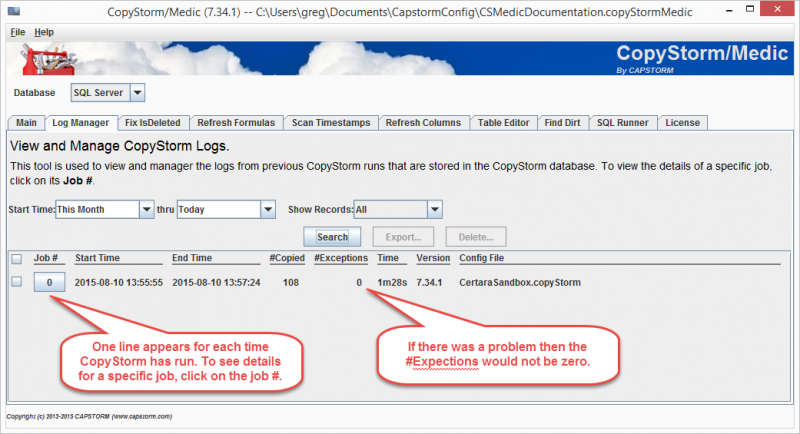 The top part of Log Manager determines which records are to be displayed. When a date is required in the UI, the value supplied can be blank, one of the items in the pulldown, or a date typed in. The date GUI element supports many date formats, including:
mm/dd/yyyy
mm/dd
dd.mm.yyyy
Mar 23
21-Nov-15
Clicking the Search button will find all jobs that match the specified date range.
To view the detailed status of an individual job, click on the corresponding JobId in the results table. Clicking will open a popup dialog like the following: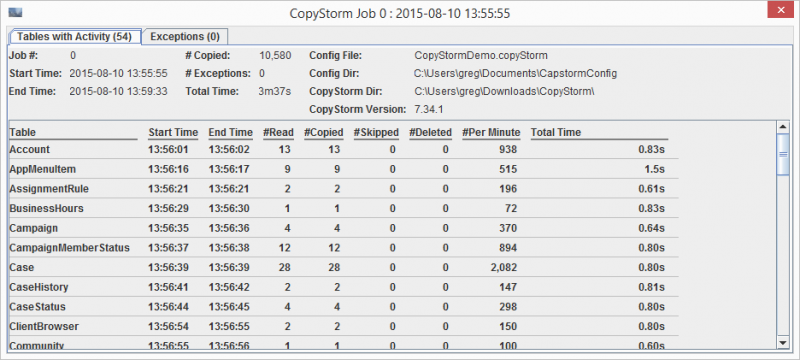 There are two tabs available when viewing a single job:
The "Tables With Activity" tab lists statistics for each table which had inserted or updated records during the job.
The "Exceptions" tab lists all errors that occurred during the job.
How to Export Job Status Information
The status for one or more selected jobs can be exported to CSV files by clicking on the Export button. Exporting will create three CSV files that are compatible with Microsoft Excel or OpenOffice Calc:
ExportFile.csv contains top-level information about each selected job.
ExportFileTables.csv contains one line for each table that was updated in the selected jobs.
ExportFileExceptions.csv contains one line for each exception that occurred in the selected jobs.
In addition to the columns displayed in the CopyStorm/Medic GUI, each exported row will also contain the JobId.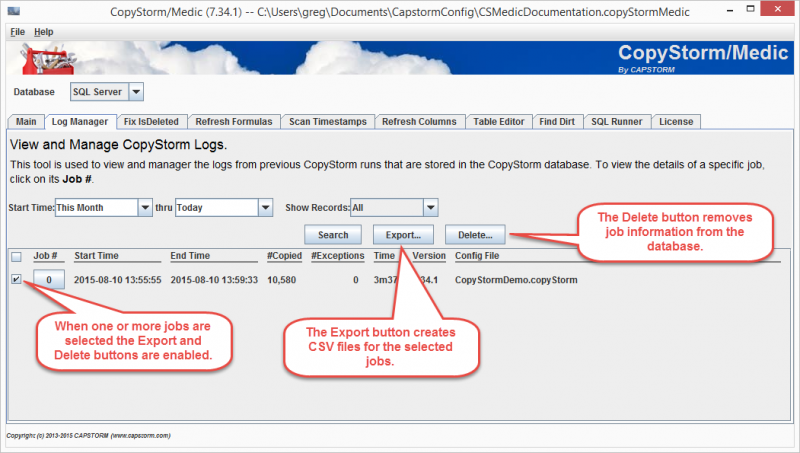 How to Delete Job Status Information
The status for selected jobs can be completely deleted from the CopyStorm database by clicking on the Delete button. The tool will ask you to confirm the deletion, as once performed the deletion is irreversible.